Racial justice protests and Covid anxieties have helped inspire a wave of murals and public art. But the colorful scenes bring controversy, too.
by Liza Weisstuch
November 18, 2020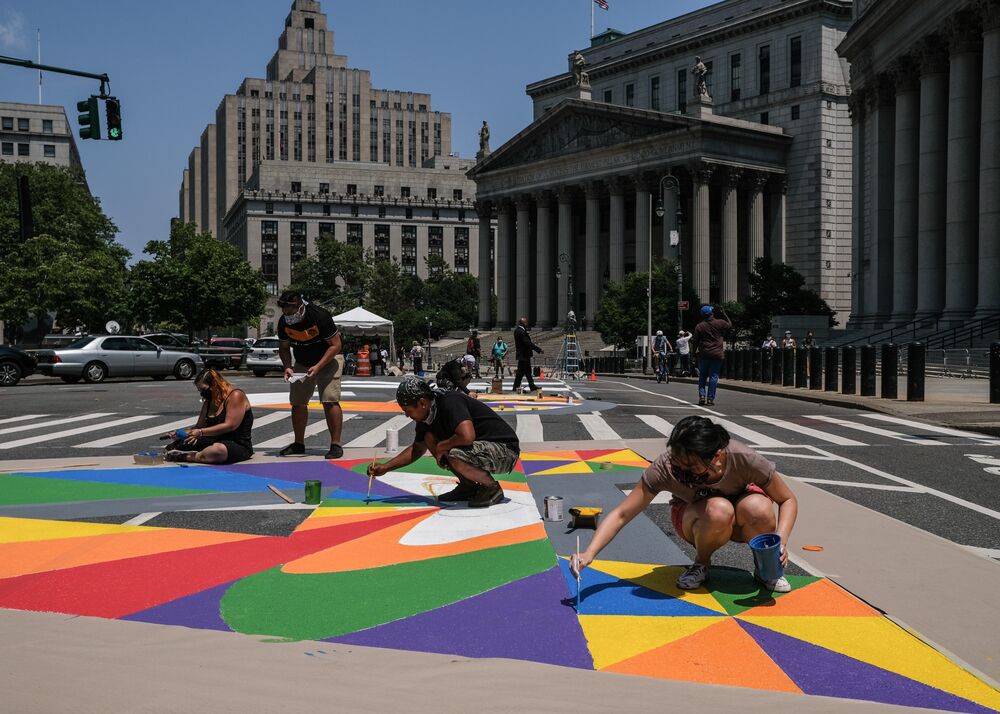 Since August, a steady stream of cars has been pulling into a parking lot next to a downtown Spokane office building. Passengers get out to snap masked selfies in front of a freshly painted Black Lives Matter mural, with each letter filled in by a different local artist.
It's a scenario that would have been hard to envision in June, when self-proclaimed militia members dotted Spokane's downtown streets in response to Black Lives Matter demonstrations. "The sheer outpouring of support was beyond anything I could have ever imagined," says Ginger Ewing, executive director of the arts nonprofit Terrain, who spearheaded the mural project. "I'm watching people take 45 minutes or an hour going to each letter, having conversations — parents talking with their kids. I actually think that post-pandemic it's going to continue to be a gathering space for people to come and have necessary, hard conversations."
The impact of the mass movement against racial injustice that swept the U.S. after the Minneapolis police killing of George Floyd in May is just beginning to be seen and felt in policy changes and election results. But the movement has already left vivid physical marks on cities, via a wave of street art: Since a now-iconic mural dedicated to Floyd appeared on a wall near the Minneapolis street corner where he was killed, racial justice-themed paintings, messages and portraits proliferated in towns and cities across the United States, and beyond. Tributes to George Floyd emerged in places as far-flung as Karachi, Pakistan; Idlib, Syria; Nairobi, Kenya; and Athens, Greece.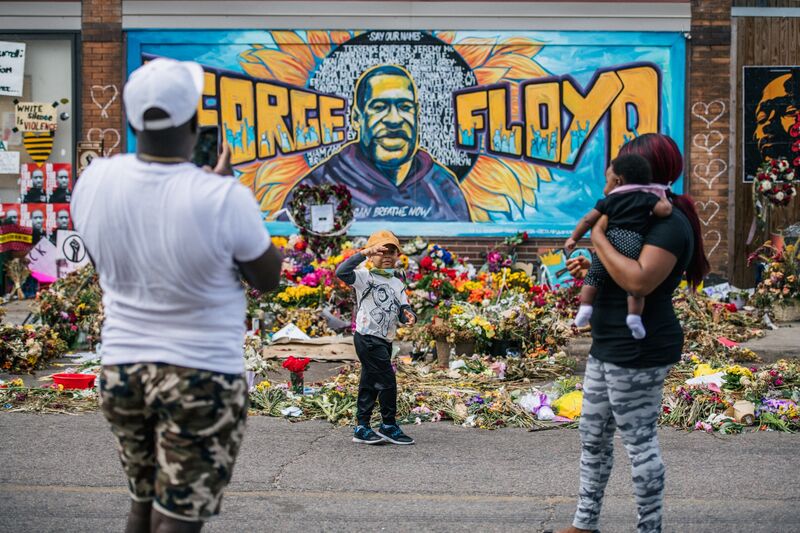 Among the most influential works from these protests: The 50-foot, visible-from-space yellow letters spelling "Black Lives Matter" that Washington D.C., painted on the asphalt near Lafayette Square, just hours after the Trump administration used tear gas to clear protesters in June. That act inspired scores of similar pop-up road murals bearing similar messages in scores of cities, including downtown Raleigh, Tulsa's historic Greenwood district and all five boroughs of New York City. In Nevada, "Black Lives Matter" was spelled out in tire tracks across four miles in Black Rock Desert, close to the Burning Man site.
Particularly poignant is the mural that Prairie View A&M University students created under the supervision of the School of Architecture's dean, Ikhlas Sabouni. It marks the stretch of road where police arrested Sandra Bland, a Black woman, in 2015 during a pretextual traffic stop. She was later found hanged in her jail cell.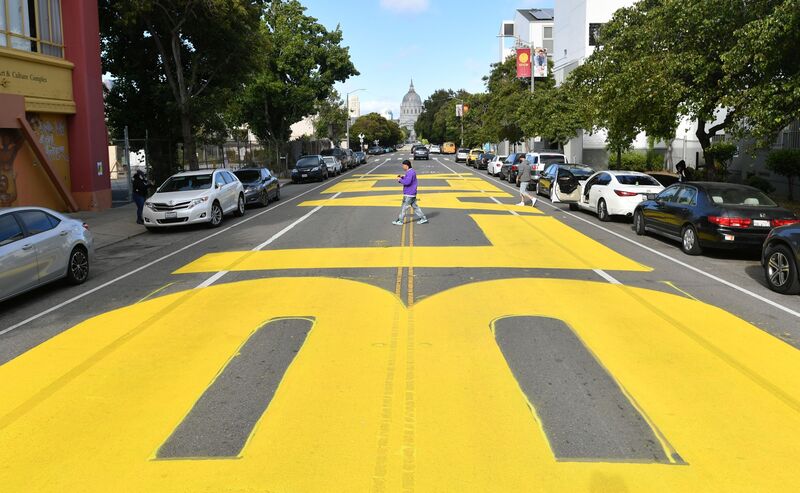 The explosion of racial justice street art in the U.S. is part of the larger surge in murals and public art that have marked global cities transformed by the coronavirus pandemic. "There's been more demand throughout Covid and Black Lives Matter [protests], which has opened up more spaces and led to more excitement," says street artist and entrepreneur Evan Meyer, who founded Beautify, a Santa Monica-based technology company that offers an Airbnb-style platform to connect artists with community organizers and property owners nationally. The tool streamlines the logistics of executing beautification projects, allowing building owners to swiftly find muralists-for-hire.
That's proved useful in recent months in cities rocked by protests and lockdowns, both of which left retail districts in some cities marred with large expanses of plywood-covered windows in need of quick, socially uplifting decoration. Recently, the U.S. presidential electionand its tense aftermath brought a spate of political art with voting-themed messages.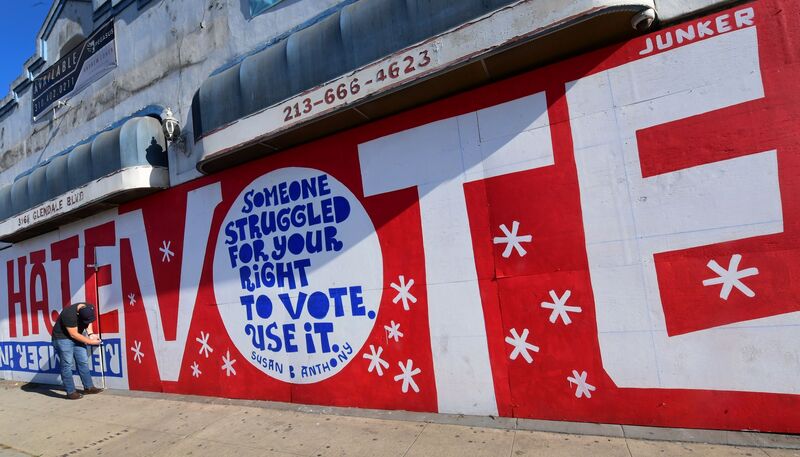 "We were able to be super-responsive to the needs of communities, whether that was painting boarded-up storefronts or providing tools and resources to organizations so they could activate projects and get more done," says Meyer. "People understand they can use street art as a way to tell a story and it can become a historical element, a cultural piece. You have a choice to live in an environment that's boring and bland, or to use our spaces to reflect who we are as people, especially during these important points in history."
Street messages are more than just symbolic gestures, says Milwaukee-based Nicolas Lampert, an artist and author of A People's Art History of the United States: 250 Years of Activist Art and Artists Working in Social Justice Movements.
"When you put up a mural, it amplifies community voices and amplifies the power of mass movements," says Lampert, a member of Voces de los Artistas, an art affinity group with the immigrant rights center Voces de la Frontera. He recently helped organize a 275-foot-long mural in support of voting rights Milwaukee's Historic Mitchell Street. "Public space is so important because it's contested. And it's commodified. The traditional ways people see visual messages is through billboards and spaces that cost money. When artists put up murals, they create an essential space for people to take in not just the views of powerful corporations, but the voices of artists and ordinary people. With the explosion of art after the tragic killing of George Floyd, people are putting up murals because they're outraged. They're saying 'enough is enough' and they're expressing that through art.""A mural can make a street corner into a social hotspot."
There is a deep-seated legacy of artists harnessing the collaborative power of public art and image-making to mobilize communities. In "The Power of the Urban Canvas: Paint, Politics, and Mural Art in Policy," published in the New England Journal of Public Policy, Maura E. Greaney investigates how urban mural programs evolved from impromptu political protest in Black and Latino communities in the 1960s. Perhaps most famously, the era's civil unrest gave rise to the Wall of Respect, a "guerrilla mural" depicting more that 50 African-American figures painted in 1967 on a building in Chicago's Grand Boulevard neighborhood. Before that, politically tinged murals and other public art were fixtures of President Franklin D. Roosevelt's New Deal.
The fact that art can document and inspire speaks to the importance of public spaces as critical infrastructure. As Matthew Clarke, executive director of the Design Trust for Public Space in New York City, points out, outdoor gathering places can serve as a nexus for public health and mental health. "Racism has been a persistent trauma in the American story for hundreds of years. That trauma is embedded in communities, neighborhoods and individuals," he says. "There are ways to address trauma, and murals and public art are wonderful ways to do so. In times of national crisis or trauma, the need for free and creative expression is amplified."
Not all public art brings messages of social justice, of course. In an intensely polarized nation, they also serve as stages for America's fractious political conversation. In 2019, the Southern Poverty Law Center counted 780 monuments honoring the Confederacy, most erected during the Jim Crow era as expressions of white supremacy. Less than three months since George Floyd's death, 38 monuments were removed, the SPLC says, and many others have been targeted with anti-racist graffiti and vandalism. In response to the "Black Lives Matter" imagery, conservatives have countered different messages. In New York, pro-police groups that proposed a "Blue Lives Matter" mural filed a lawsuit against Mayor Bill de Blasio for rejecting the request. Tampa's "Back the Blue" road mural, painted without a permit in August in front of police department headquarters, was defaced within days.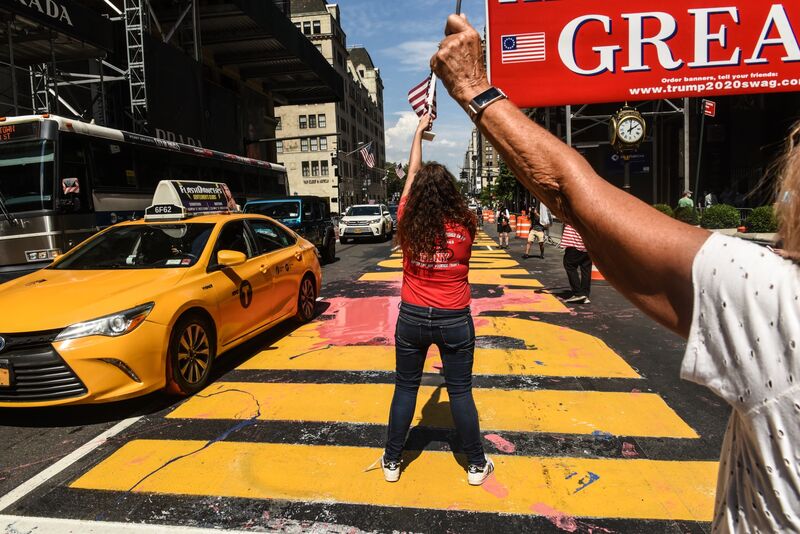 A similar face-off over street art gripped the Greenwood District of Tulsa, Oklahoma, site of the 1921 Tulsa Race Massacre. Community members painted a Black Lives Matter street mural on Greenwood Avenue on the eve of President Donald Trump's June rally in that city. Early in August, the mural was vandalized with blue paint, and in October the city voted to remove it, citing objections from nearby property owners and potential distraction for drivers.
In Kansas City, Missouri, the city partnered with the local NAACP chapter and Urban League of Greater Kansas City to create six BLM street murals, totaling 2,000 linear feet, in different neighborhoods over the course of a weekend in September. When one 400-foot mural in Briarwood, an affluent neighborhood, was defaced with tire marks, the artist, Harold Smith, insisted on using it as a teaching moment.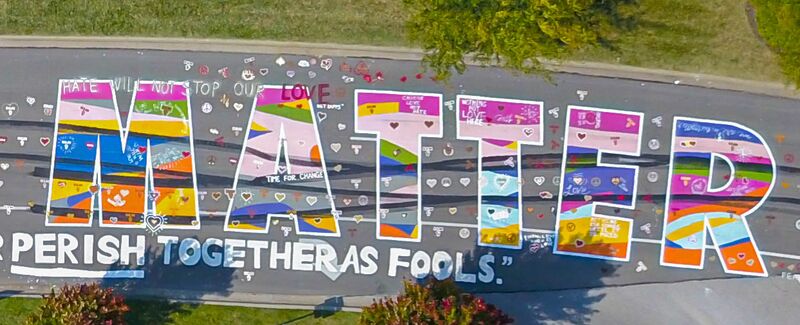 He said if this isn't a testament to why the mural has to be there, he didn't know what else is," says Crissy Dastrup, legislative aide to Kansas City Councilman Eric Bunch and cofounder of Troost Market Collective, a local arts nonprofit. Dastrup oversaw the mural projects and also organized what became known as Operation Clapback to repaint and repair the tire-damaged Briarwood mural: Locals were provided with stencils and a range of flesh-toned spray paints to leave multi-hued handprints and other messages on the street.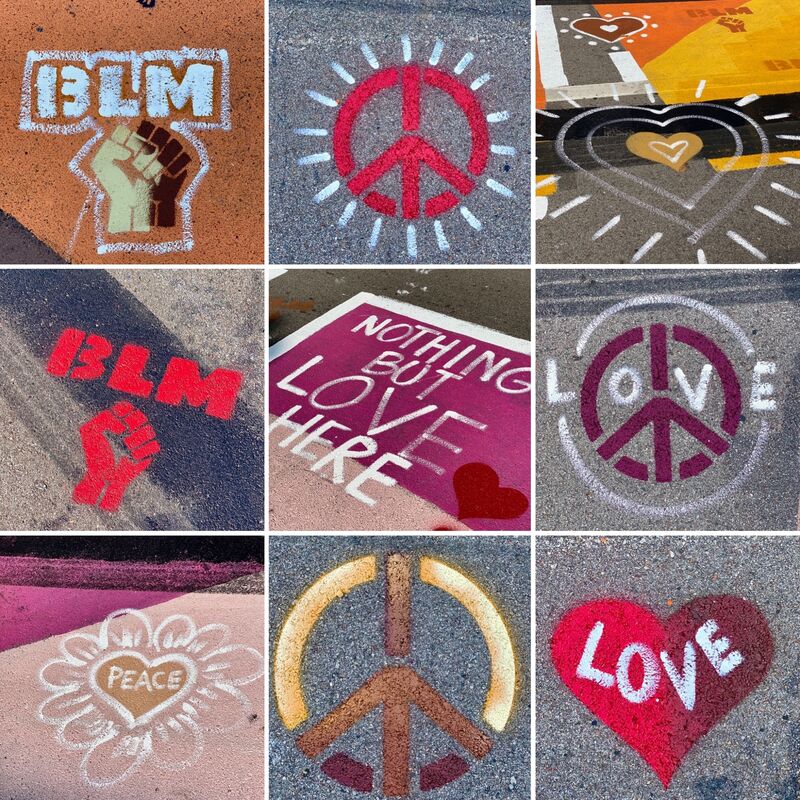 The final product telegraphs a we-will-not-be-defeated message, Dastrup says. "We weren't going to go away with our tail between our legs; we were going to amplify what the vandals did, because this is exactly why we're doing this project. It was about bringing the community together to get at something important."
When the community gathered, the mural fix took on a festive event-like air. That, too, is a product of public art-making, says Beautify's Meyer.
"A mural can make a street corner into a social hotspot," says Meyer. "With everything happening these days, there's a lack of joy and hope. But communities are rebuilding themselves by telling local stories and, at the same time, making beautiful art for people to smile at. Healing comes from the realization that there's still color, joy and beauty all around."